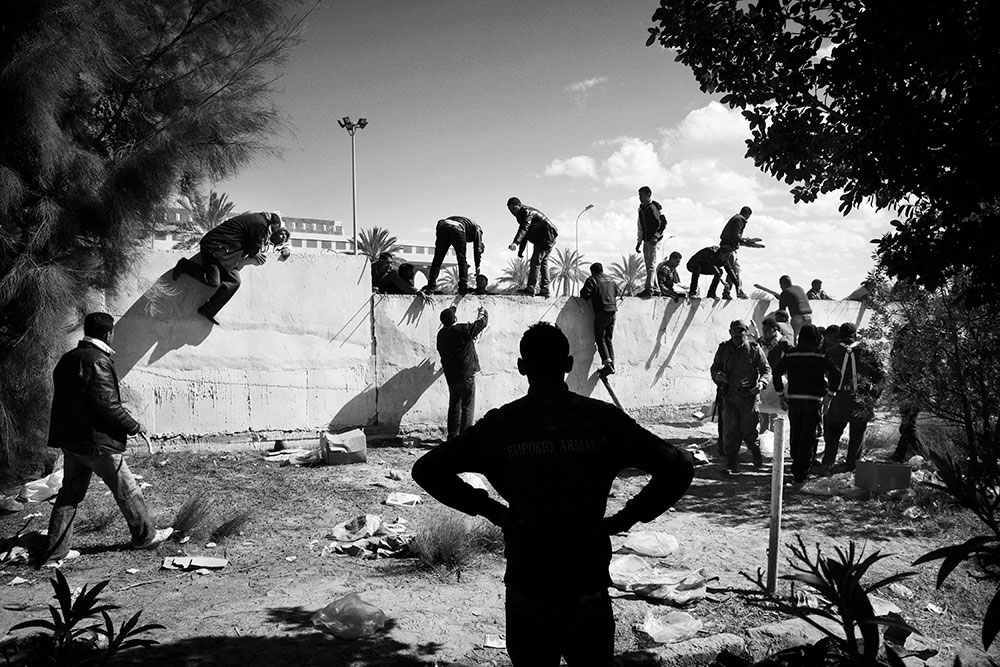 © Paolo Pellegrin/Magnum Photos
November 8th - December 1st 2019
free admission
Triennale Milano, viale Alemagna 6, Milano
Exhibition opening on November 7
Opening hours:
November 8th - December 1s
Tuesday - Sunday 10.30 am – 8.30 pm


Curated by Annalisa D'Angelo
Project: Giulia Cogoli
Production: Davide Daninos, Sveva Taverna
Organization: Elena Ciompi

The photo exhibition
Humanity's borders by Paolo Pellegrin at Triennale Milano.
This photographic exhibition, created especially for Pistoia - Dialogues on Man, will be presented at Triennale Milano: November 8th - December 1st.
The exhibition has comprised sixty pictures, some hitherto unseen, taken by one of the best loved photographers on the world stage, admired for his commitment and innovative documentary aesthetics. These photos were shot in Algeria, Egypt, Kurdistan, Palestine, Iraq and the United States, and they are accompanied by a video by Paolo Pellegrin himself: recorded in America, the new film explore the racial divisions that still ravage the country, borders that may be invisible, but which are even more insurmountable than physical barriers. The pictures cover a timescale of almost 30 years, using a process of subtraction and opposition to trace the arduous path of coexistence, obstructed by walls, wars, stormy seas and harsh deserts. In other words all kinds of borders - natural and artificial, visible and invisible – that divide, imprison and isolate human beings.In this way, the exhibition transports us to humanity's borders, to illustrate the continual yet necessary effort underpinning the foundations of coexistence.
Organized with: Pistoia - Dialoghi sull'uomo, Fondazione CRPT, Bookcity Milano.

The catalogue is published by Contrasto.
Paolo Pellegrin, joined Magnum Photos in 2001, becoming a fully-fledged member of the agency in 2005. His work has been recognised with many international awards: ten World Press Photo prizes; various prizes as Photographer of the Year; the Leica Medal of Excellence; Olivier Rebbot Award; Hansel-Mieth-Preis and the Robert Capa Gold Medal Award. In 2006, he was awarded the W. Eugene Smith Grant in Humanistic Photography. His photographs have been displayed in countless museums and galleries, including the Maison Européenne de La Photographie, Paris; San Francisco Museum of Modern Art; the Triennale and PAC, Milan; Musée Royaux des Beaux-Arts de Belgique, Bruxelles; Corcoran Gallery of Art, Washington D.C; the MAXXI, Rome; Aperture Foundation Gallery, New York, and the Foam Fotografiemuseum, Amsterdam.
Buy Catalogue
ARCHIVIO MOSTRE FOTOGRAFICHE