Coexisting with the Earth: how our happiness can save the environment
€ 3.00
Sunday 26 May 2019
3:00 pm
A climate changing unexpectedly, global warming leading to famines, wars and epic migratory movements, in front of everyone's eyes, unanimously feared, indictors of an environmental collapse creeping ever closer. Human beings have forgotten to look after the world given to them to live in, we need to find out why. But what matters is, it is not all completely lost. We try to radically change the situation in the little time we still have left. It is about choosing to be free, happy and healthy. No one is just "a drop in the ocean" in the Earth system, which can transform "drops" into a tsunami of change. Every single gesture to protect the environment is crucial for our common future, they can be large or small actions, but they all improve the quality of life. An invitation not to waste time from Mastrojeni, who researches the links between safeguarding the environment, development and peace.
Video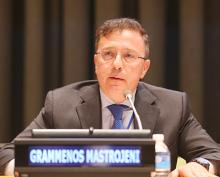 Grammenos Mastrojeni, diplomat, professor and writer, is the Co-ordinator for the Environment for Development Cooperation, Chair of the world Mountain Partnership and Global Islands Partnership and he collaborates with the Climate Reality Project, launched by Nobel Prize winner, Al Gore. Ottawa University asked him to take the first course on Environment, Resources and Conflicts, a subject he continues to teach in various universities in Italy and abroad. His publications include: The Unbreakable Cycle. Peace, Environment, Development and Freedom in Global Balance (Vita e Pensiero, 2002); The Necessary Eco-Revolution (Edizioni Scientifiche Italiane, 2008); Noah's Ark: Saving the Environment Together (Chiarelettere, 2014); Ora o mai più. Un decennio, e non oltre, per salvare noi stessi e la Terra (Amazon, 2016); and with the climatologist Antonello Pasini, Global Warming, Global "Warring". (Chiarelettere, 2017).
Grammenos Mastrojeni & i Dialoghi
Il programma sarà disponibile a breve...
Il programma sarà disponibile a breve...