6
Elisabetta
Moro
and
Marino
Niola
A recipe for living and eating together
€ 3.00
Saturday 27 May 2017
10:30 am
We have all been intermingling at the dinner table for a least several millennia. Proof of this is found in the history of Mediterranean cultures and crops, nurtured by the continual exchange of plants, seeds, techniques, recipes and products between the different shores of Mare nostrum. From Pantelleria pots to wines from Samos, Tangiers' tangerines to honey from Ibla, eggplant parmigiana to pasta. In fact, if you look at history stripped of any parochialism and localisms, the idea of being a native turns out to be a myth and this applies to ethnicity as well as food and wine, since culinary arts are the result of people migrating, intermingling and borrowing from each other. In this context, the Mediterranean diet or the "Mediterranean way of life" represents a recipe for living together that does not only involve good and healthy food, but also, above all ethical and social values, models for conviviality, education in sustainability, an appetite for exchanges and a willingness to integrate. Hence, a dress rehearsal for tomorrow's humanity.
Video
Elisabetta Moro, a professor of Cultural Anthropology at the SOB University of Naples, teaches Mediterranean Food Traditions, Food and Wine Tourism and Cultural Anthropology. She is co-director of MedEatResearch (a Centre for social research into the Mediterranean diet). Her publications include La Dieta Mediterraneana. Mito e storia di uno stile di vita (il Mulino, 2014) and Andare per i luoghi della Dieta Mediterraneana (with Marino Niola, il Mulino, 2017).
Elisabetta Moro & i Dialoghi
Il programma sarà disponibile a breve...
Il programma sarà disponibile a breve...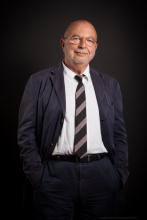 Marino Niola is a professor of the Anthropology of Symbols at the SOB University of Naples, where he teaches contemporary Food and Wine Mythology. He is also co-director of MedEatResearch and writes regularly for the newspapers la Repubblica, il Venerdì, D-la Repubblica and Nouvel Observateur. His publications include Si fa presto a dire cotto. Un antropologo in cucina (2009), Non tutto fa brodo (2012); Homo dieteticus. Viaggio nelle tribù alimentari (2015) published by Il Mulino and Il presente in poche parole (Bompiani, 2016).
Marino Niola & i Dialoghi
Il programma sarà disponibile a breve...