Directed by François Truffaut


Introducted by

Stefano Allovio
Screening of the film: Fahrenheit 451
€ 3.00
Saturday 27 May 2017
10:30 pm
A cult film based on Ray Bradbury's eponymous, dystopian sci-fi bestseller. In a future, technologically advanced and apparently perfect society, it is forbidden to read and own books because they distort facts, embellish reality, force people to think and prevent them from being happy. Firefighters are ordered to find hidden, outlawed books, burn them and punish the offenders. Out of curiosity, the most diligent fireman, Montag, starts to read but his wife Linda does not agree with his decision and reports him to the authorities. Montag will have to destroy his house and his books and flee into the woods, where other rebels live in a community, learning books by heart with a view to passing them on to future generations. This 1966 movie was a wonderful tribute to literature and to culture. The cast included Oskar Werner, Julie Christie and Cyril Cusack.
François Truffaut (1932-1984) was an actor, film director, screenwriter, producer and cinema critic. He played a crucial role in the French film industry between the 1960s and the '80s and was involved in the nouvelle vague movement, which drew its inspiration from the earlier season of Italian Neorealism, becoming a point of reference for the film industry worldwide. His best known films include: The 400 Blows (1959), Jules et Jim (1962), Fahrenheit 451 (1966), Stolen Kisses (1968), The Wild Child (1970), Two English Girls (1971), Small Change (1976), The Man Who Loved Women (1977), The Story of Adele H. (1975), the Oscar®-winning Day for Night (1973), The Last Metro (1980) and Finally, Sunday! (1983) starring his last partner, Fanny Ardant. He edited and wrote several books, including The adventures of Antoine Doinel (1992), The Films in my Life (1978) published in Italian by Marsilio and Hitchcock/Truffaut, published in Italian by Il Saggiatore, 2008.
François Truffaut & i Dialoghi
Il programma sarà disponibile a breve...
Il programma sarà disponibile a breve...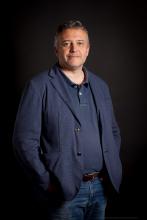 Stefano Allovio teaches Cultural Anthropology and Social Anthropology at the Università Statale in Milan. He has conducted ethnographic studies in Burundi, the Democratic Republic of Congo, South Africa and in the Western Alps. In addition to writing many essays, he is the author of the following books: Burundi. Identità, etnie e potere nella storia di un antico regno (Il Segnalibro, 1997); La foresta di alleanze. Popoli e riti in Africa equatoriale (Laterza, 1999); Culture in transito. Trasformazioni, performance e migrazioni nell'Africa sub-sahariana (Franco Angeli, 2002); Culture e congiunture. Saggi di etnografia e storia mangbetu (Guerini, 2006); Sapersi muovere. Pastori transumanti di Roaschia (with Marco Aime and Pier Paolo Viazzo, Meltemi, 2001); Pigmei, europei e altri selvaggi (Laterza, 2010); and Riti di iniziazione. Antropologi, stoici e finti immortali (Raffaello Cortina, 2014).
Stefano Allovio & i Dialoghi
Il programma sarà disponibile a breve...