Directed by François Truffaut


Introduced by

Marco Aime
Screening of the film: The Last Metro
€ 3.00
Sunday 28 May 2017
8:00 pm
Paris 1942, under Nazi occupation, when the last train before curfew is at 8.30 pm. People have not lost their desire to perform on stage or go to the theatre. The small Théâtre de Montmartre is involved in staging a Norwegian comedy Disappearance. Its director Lucas Steiner, a Jew, has put out a story that he has fled to America. The fate of both the theatre and its company is in the hands of his wife, principle actress Marion, and his trusted assistant, the director Jean-Loup Cottins. In actual fact, Steiner is hiding in the theatre's cellar and from there, thanks to the ability of Marion, who visits him every evening, he directs Jean-Loup's activities, who is unaware of his presence. It is from this cellar Steiner will witness the changes in his marriage and the world. This is one of François Truffaut's best-known films, shot in 1980 with an exceptional cast: Catherine Deneuve, Gérard Depardieu, Jean Piret, Andréa Ferréol and Heinz Bennent.
François Truffaut (1932-1984) was an actor, film director, screenwriter, producer and cinema critic. He played a crucial role in the French film industry between the 1960s and the '80s and was involved in the nouvelle vague movement, which drew its inspiration from the earlier season of Italian Neorealism, becoming a point of reference for the film industry worldwide. His best known films include: The 400 Blows (1959), Jules et Jim (1962), Fahrenheit 451 (1966), Stolen Kisses (1968), The Wild Child (1970), Two English Girls (1971), Small Change (1976), The Man Who Loved Women (1977), The Story of Adele H. (1975), the Oscar®-winning Day for Night (1973), The Last Metro (1980) and Finally, Sunday! (1983) starring his last partner, Fanny Ardant. He edited and wrote several books, including The adventures of Antoine Doinel (1992), The Films in my Life (1978) published in Italian by Marsilio and Hitchcock/Truffaut, published in Italian by Il Saggiatore, 2008.
François Truffaut & i Dialoghi
Il programma sarà disponibile a breve...
Il programma sarà disponibile a breve...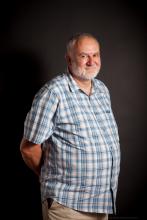 Marco Aime is professor of Cultural Anthropology at the University of Genoa. He has conducted research on the Alps and in West Africa. Aime has authored a number of books: Le radici nella sabbia(EDT, 1999); Il primo libro di antropologia(2008), Il dono al tempo di Internet(with A. Cossetta, 2010), L'altro e l'altrove(with D. Papotti 2012), Contro il razzismo (with G. Barbujani, C. Bartoli, F. Faloppa, 2016) published by Einaudi; Verdi tribù del Nord (Laterza, 2012); Gli specchi di Gulliver(2006), Timbuctu(2008), Il diverso come icona del male(with Emanuele Severino, 2009), Gli uccelli della solitudine(2010), Cultura(2013), L'isola del non arrivo. Voci da Lampedusa (2018) published by Bollati Boringhieri; All'Avogadro si cominciava a ottobre (Agenzia X, 2014); La macchia della razza (2012), Etnografia del quotidiano(2014) published by elèuthera; La fatica di diventare grandi. La scomparsa dei riti di passaggio (Einaudi, 2014); Tra i castagni dell'Appennino. Conversazione con Francesco Guccini (2014); Senza sponda (2015) published by Utet. He transleted Atlante delle frotiere by Bruno Tertrais e Delphine Papin (2018, ADD editore); He's going to publish Comunità (il Mulino, 2019).
Marco Aime & i Dialoghi
2019
2017
2016
2015
2014
2013
2012
2011
2010
Il programma sarà disponibile a breve...