Giving to live together
€ 3.00
Friday 25 May 2012
7:00 pm
piazza dello Spirito Santo
1
From Marcel Mauss' 1921 essay on The Gift to such online practices as free software, the gift is a constant pervading our lives even if we are not aware. Giving—this common, simple gesture—represents the true driving force behind every community, every society. What distinguishes giving from other forms of exchange? Freedom—the freedom of returning, the freedom of giving whenever and however one wishes. Much of human relations is based upon the acts of giving, receiving and reciprocating, the three pillars of a system resting upon a constant alternation of equilibrium and disequilibrium. They give rise to a time of waiting in which and by which relations between individuals stay alive.
Video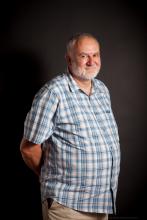 Marco Aime is professor of Cultural Anthropology at the University of Genoa. He has conducted research on the Alps and in West Africa. Aime has authored a number of books: Le radici nella sabbia(EDT, 1999); Il primo libro di antropologia(2008), Il dono al tempo di Internet(with A. Cossetta, 2010), L'altro e l'altrove(with D. Papotti 2012), Contro il razzismo (with G. Barbujani, C. Bartoli, F. Faloppa, 2016) published by Einaudi; Verdi tribù del Nord (Laterza, 2012); Gli specchi di Gulliver(2006), Timbuctu(2008), Il diverso come icona del male(with Emanuele Severino, 2009), Gli uccelli della solitudine(2010), Cultura(2013), L'isola del non arrivo. Voci da Lampedusa (2018) published by Bollati Boringhieri; All'Avogadro si cominciava a ottobre (Agenzia X, 2014); La macchia della razza (2012), Etnografia del quotidiano(2014) published by elèuthera; La fatica di diventare grandi. La scomparsa dei riti di passaggio (Einaudi, 2014); Tra i castagni dell'Appennino. Conversazione con Francesco Guccini (2014); Senza sponda (2015) published by Utet. He transleted Atlante delle frotiere by Bruno Tertrais e Delphine Papin (2018, ADD editore); He's going to publish Comunità (il Mulino, 2019).
Marco Aime & i Dialoghi
2019
2017
2016
2015
2014
2013
2012
2011
2010
Il programma sarà disponibile a breve...