Landless: the challenges of accepting the Earth's new 'wretched'.
€ 3.00
Saturday 23 May 2015
6:30 pm
In this historic moment, it is increasingly important to answer the question: how do we receive migrants, those who have left their homes in order to survive? Continued talk of emergencies is pointless: the arrival of boats overflowing with the 'wretched of the Earth' to our shores is no longer an exception - it is the rule. As is the condition of the refugee, the exile and the asylum seeker. How do we Italians, we Europeans, receive those who arrive seeking hope? What do we say to those desperate faces that interrogate us daily? Are we, will we be able to turn those questions into our own? To reflect upon and appeal to the values that make us human? Or will we surrender to the siren songs that whisper to us to shut ourselves in our homes, to close our doors to these new arrivals, because they're dangerous? This challenge of acceptance is the greatest challenge of our time, from which we cannot and must not even attempt to run.
Video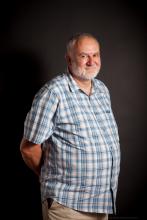 Marco Aime is professor of Cultural Anthropology at the University of Genoa. He has conducted research on the Alps and in West Africa. Aime has authored a number of books: Le radici nella sabbia(EDT, 1999); Il primo libro di antropologia(2008), Il dono al tempo di Internet(with A. Cossetta, 2010), L'altro e l'altrove(with D. Papotti 2012), Contro il razzismo (with G. Barbujani, C. Bartoli, F. Faloppa, 2016) published by Einaudi; Verdi tribù del Nord (Laterza, 2012); Gli specchi di Gulliver(2006), Timbuctu(2008), Il diverso come icona del male(with Emanuele Severino, 2009), Gli uccelli della solitudine(2010), Cultura(2013), L'isola del non arrivo. Voci da Lampedusa (2018) published by Bollati Boringhieri; All'Avogadro si cominciava a ottobre (Agenzia X, 2014); La macchia della razza (2012), Etnografia del quotidiano(2014) published by elèuthera; La fatica di diventare grandi. La scomparsa dei riti di passaggio (Einaudi, 2014); Tra i castagni dell'Appennino. Conversazione con Francesco Guccini (2014); Senza sponda (2015) published by Utet. He transleted Atlante delle frotiere by Bruno Tertrais e Delphine Papin (2018, ADD editore); He's going to publish Comunità (il Mulino, 2019).
Marco Aime & i Dialoghi
2019
2017
2016
2015
2014
2013
2012
2011
2010
Il programma sarà disponibile a breve...