5
Director:
François
Truffaut
- Introduced by
Adriano
Favole
Screening of the film: The Wild Child
€ 3.00
Friday 26 May 2017
10:30 pm
Summer, 1798. In the Aveyron woods in France a group of hunters captures a boy of about 12 who is acting like a wild beast, whining, scratching and biting. The film, directed by and starring François Truffaut, was based on a true story. Doctor Jean Itard, a son of the Age of Enlightenment, manages to take custody of the boy, rejecting the view supported by leading experts that he is beyond help. Based on the doctor's original notes, the film describes in masterful black and white the relationship between Itard (played by the director himself) and the "wild child", who has taken the name Victor in the meantime. The challenges the doctor faces in "educating the boy" are handled in a rigorous, almost didactic style that is, however, also uniquely poetic. The picture was made in 1970 with a cast of leading performers: François Truffaut, Jean-Pierre Cargol and Françoise Seigner.
François Truffaut (1932-1984) was an actor, film director, screenwriter, producer and cinema critic. He played a crucial role in the French film industry between the 1960s and the '80s and was involved in the nouvelle vague movement, which drew its inspiration from the earlier season of Italian Neorealism, becoming a point of reference for the film industry worldwide. His best known films include: The 400 Blows (1959), Jules et Jim (1962), Fahrenheit 451 (1966), Stolen Kisses (1968), The Wild Child (1970), Two English Girls (1971), Small Change (1976), The Man Who Loved Women (1977), The Story of Adele H. (1975), the Oscar®-winning Day for Night (1973), The Last Metro (1980) and Finally, Sunday! (1983) starring his last partner, Fanny Ardant. He edited and wrote several books, including The adventures of Antoine Doinel (1992), The Films in my Life (1978) published in Italian by Marsilio and Hitchcock/Truffaut, published in Italian by Il Saggiatore, 2008.
François Truffaut & i Dialoghi
Il programma sarà disponibile a breve...
Il programma sarà disponibile a breve...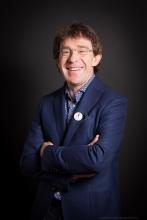 Adriano Favole is deputy director for Research at the Department for Culture, Politics and Society at the University of Turin and teaches Cultural Anthropology, Culture and Power. He has lectured at the Universities of Milan, Genoa and Bologna and in New Caledonia. He has travelled and conducted research in Futuna (western Polynesia), New Caledonia, Vanuatu, Australia and in La Réunion (Indian Ocean). His main areas of study are political anthropology, anthropology of the body and anthropology of heritage. He writes regularly for the newspaper Corriere della Sera's cultural insert, La lettura. His publications include: La palma del potere (Il Segnalibro, 2000); Isole nella corrente (La ricerca folklorica, Grafo, 2007); Resti di umanità. Vita sociale del corpo dopo la morte (2003); Oceania. Isole di creativity culturale (2010) and La bussola dell'antropologo (2015), both published by Laterza; Vie di fuga. Otto passi per uscire dalla propria cultura (UTET, Dialoghi sull'uomo, 2018).
Adriano Favole & i Dialoghi
2018
2017
2016
2015
2013
2011
Il programma sarà disponibile a breve...